My boys love watching
Disney Junior
. Whether before school, while gobbling down their cereal or on Sunday morning before church, this fantastic channel is part of our every day family life. With shows that entertain and educate, we often watch them together to share in the stories and laughter. One of our favorites is
Jake and the Never Land Pirates
. With Jake, Cubby and all their pals outwitting Captain Hook at every turn and showing us how to solve problems and help each other.  Now this trendy Disney Junior show is a 2-disc combo pack, featuring an all new movie, 5 episodes of the series, a sing along, and interactive game where kids can follow clues to find Peter Pan's shadow.  
The full length adventure
Jake and the Never Land Pirates: PeterPan Returns
joins the new with the old by pairing the new pirate kids with those characters we remember from our childhood and I for one, love it! Peter Pan Returns brings the legendary hero back to Never Land to interact with Jake and the gang on an all new adventure. During Peter's visit back to Never Land, his shadow "slips away" and is captured by the evil Captain Hook. Peter must turn to Jake and all his pals to save the day. Peter and the kids explore the magical world and try to outwit Hook, Smee and recapture Peter's shadow. There are even moments in the movie where the viewers are called upon to answer questions and help out. My kids love the interactive parts of the movie and the series. If you have never had the opportunity to watch, check it out. The stories are entertaining and educational, teaching such things as counting, friendship, and memory skills.
The full DVD is 169 minutes of swash-buckling fun. With its bonus features, this DVD pack is a sure hit and a great addition for your family library, especially for kids under 8. Thanks to the wonderful people at Disney Video, one of Ryan and Liam's favorites can now be seen any time they wish. With the DVD release of Jack and the Never Land Pirates: Peter Pan Returns, the Disney Junior pirates are now a permanent member of our family DVD library.
The following two tabs change content below.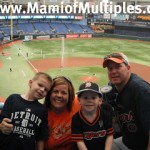 Kamy Moss
"Family Living with Kamy Moss", is a regular parenting, family lifestyle and travel contribution. She is also the Midwest Family and Travel Contributing Columnist. Kamy offers advice, tips, and resources on a range of topics including parenting, family living, children activities, and traveling. Kamy is a DreamMaker for DreamFinder Travel, an Authorized Disney Vacation Planner, at www.doadreamvacation.com. Connect with her on Facebook at www.facebook.com/doadreamvacation and on Twitter at @MossMommy2. Questions? Ask Kamy at kamgen@yahoo.com.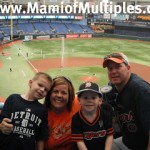 Latest posts by Kamy Moss (see all)